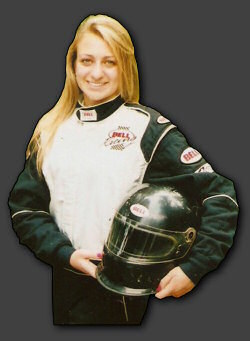 Brie Hershey – Sprint Car Driver
Born – September 14, 1991
Hometown – Dillsburg, Pennsylvania

Brianna was just about born at a racetrack, literally. The daughter of a sprint car driver, she spent many hours either at a racetrack in central PA or in a race shop. Her aptitude for motor sports was evident early-on and she expressed her own desire to race 410 sprint cars.

At age 5 she was racing quarter midgets. The crew, which consisted of dad, mom and a yellow lab named Axle, traveled weekly to tracks in PA, MD, DE and IN. There were times when it was only Brianna and her mom because dad had obligations of his own with a sprint car team.

In 2004 at the age of 12, she was given the opportunity to try her hand at a 270cc micro sprint and in doing so, earned a 7th place finish. This was just following the Quarter Midget Dirt Grand Nationals in which she qualified 3rd fastest for the A-Main starting line-up. By now everyone called her "Brie" and it stuck. When the following racing season was just underway, Brie made the decision to fully transition to the 270cc micro sprint division, but after first claiming the 2005 Regional Championship in quarter midgets. Brie chalked-up a 270cc microsprint win as a rookie that same year. Her 14th birthday permitted more racing events to be added to her schedule in 2006, as prior to she was too young by most track's regulations in her circuit in the eastern U.S.

A new horizon came into view in 2007. Brie made her place known as a serious competitor driving a 600cc sprint. She was accepted into the Lyn St. James Driver Development Program, and was awarded a scholarship from the Womens Sports Foundation to attend.

The later part of the 2008 racing season was Brie's rookie debut in a full size sprint car. She completed the final phase of the Lyn St. James Driver Development Program at Bondurant School of High Performance Driving in Arizona as well.

In 2009 Brie was a Project Podium Grant Recipient which enabled her to continue in the 358 sprint car division in Central PA.

2010 held a full racing schedule which listed Williams Grove, Lincoln, Trailway and Susquehanna Speedways. After high school graduation, she began to pursue a degree in Mechanical Engineering that same year.
Brie has been featured in Area Auto Racing News, The Sentinel and The Patriot News as well on the 2011 Eastern Sprint Car Calendar. She can also be seen in the September 2012 issue of Sprint Car and Midget Magazine displaying a visit to an elementary school to provide inspiration young students.

The 2012 racing season held podium finishes. Brie's first win at Lincoln Speedway was a defining moment. She was recognized as the first female driver to be awarded the York County Racing Club's coveted "pewter plate" for the win. Brie finished 9th in points at Williams Grove Speedway, being noted as the highest point finish by a female sprint car driver at the speedway.
Each racing season Brie, and her team, have continued to be strong as is shown in the point finishes. In 2016 she parked her sprint car in victory lane three times and was named the Most Improved 358 Sprint Car Driver in central PA.
In 2019 Brie's hard work paid off as her life long dream became a reality, racing a 410 sprint car !